TOP QUALITY STATUARIO WHITE MARBLE
Statuario marble is, without doubt, the most beautiful marble available in the World. It is the epitome of style and elegance and has been utilized as a symbol of sophistication and status in interior design for centuries. We are often asked about Statuario marble by engineers, architects, interior designers, luxury builders, and end-users. We will discuss the traits of Statuario marble along with its most common uses in architecture.
Statuario marble contains heavy, bold Gray veining mixed with thinner patterns.
Application: Statuario marble is an ideal stone for indoor applications such as kitchen countertops and backsplashes, bathroom vanities, and floor tiles.

What is Statuario Marble?
Statuario marble is a striking and exclusive bright white natural marble, its beautiful grey veining, and its rich, bold patterns. It is arguably the whitest marble in the marble World. Statuario marble often contains heavy grey veining throughout with unique and beautiful patterns. Statuario marble from the mountain quarries of Statuario, above Carrara in Italy. We are one of the leading manufacturers, suppliers, and Exporter of the Statuario marble all around the world, and its limited availability, coupled with its high demand, make it a real statement in any home, villa, hotel, hospital, and residential or commercial projects.

Best Uses for Statuario Marble
Given its prestige status, Statuario marble is unsurprisingly commonly used as a focal point of any Building. Most of our clients use it for stunning Flooring, Elevation, Decoration and countertops, and backsplashes, or large floor tiles. Luxury bathrooms are equally good uses for Statuario marble as it's the perfect material for a vanity area or even as eye-catching flooring. Statuario marble is not a good material for external projects. It's equally popular with our hotel clients where it can be used as part of a statement reception area or boardroom, in 5-star hotels and can often be seen in religious buildings such as temples and churches. Statuario marble was the marble of choice for carving lavish statues and was the stone used for Michelangelo's famous 'David' masterpiece.

Caring for Statuario Marble
Statuario marble must be properly maintained and cared for to ensure it keeps its stunning looks over time. Statuario Marble must be sealed before use. Spills should be wiped up quickly to prevent staining and regular cleaning is recommended. We will happily advise you on how to take care of your particular type of Statuario marble.
The above are just a few reasons why Statuario marble could be the perfect best building material for your luxury interior.
Statuario Marble Slabs and Tiles are used for flooring and wall cladding. Statuario Marble has nice durability and strength. Statuario marble slabs and tiles are manufactured by us by using modern machines and technology. White Statuario Marble slabs and tiles are available in every size Thickness and we can customize as per the demand of Architects and Interior designers.
Statuario Marbles are used for flooring and wall in interiors as well as exteriors. Statuario marble comes with natural textures and white color and it has nice durability and strength. Absolutely stunning bathroom with Statuario Marble tiles and shower floor next to Statuario Marble. The intricate veining of our Statuario marble complements the minimalist features in this modern kitchen and Bathroom.

While Italy has always been known as the home of the world's most beautiful marble, it has some competition these days. As it turns out, some of the most breath-taking, durable marble in the world is actually right in our back yard—in Vermont!
Vermont may be more recognized for maple syrup and cheese than fine natural stone and historically significant architecture, but the famous Danby Marble Quarry in Vermont's Dorset Mountain has been producing amazing marble for over 100 years. In fact, it was the first marble quarry in the United States and it's the largest underground marble quarry in the world! Established in the 1850s, the outside of the quarry looks the same today as it did back then. Inside, the quarry twists and turns over a mile-and-a-half deep.
The famous Danby Marble Quarry in Vermont's Dorset Mountain has been producing amazing marble for over 100 years.
You're likely wondering what makes Danby Marble so special. Marble is marble, right? Well, that's not entirely true. Danby Marble is actually an exceptionally durable marble. It's a very dense stone that is less likely to stain than other types of marble. Danby Marble has the lowest absorption rate of any kind of marble, ranging between .06 to .08 percent. By comparison, Bianco Carrara's rate is .13 percent, Statuario is .15 percent and Arabescato Vagli and Calacatta Delicato are .17 percent and .18 percent, respectively. What this means is that Danby Marble is far less likely to absorb stain-causing substances that might cause permanent damage to the stone.
Marble from the Danby Quarry has played an important role in U.S. history, further adding to its appeal. Danby varieties have been used on some of the most famous structures in America such as the Thomas Jefferson Memorial, the United States Supreme Court, and Arlington National Amphitheatre in D.C., as well as the Massachusetts State House in Boston, the Beinecke Library at Yale, the Court of Appeals in Albany, and the Jacob Javits Federal Building exterior landscaping in New York City. Plus, since it's quarried right here in the United States, purchasing Danby marble helps to support U.S. jobs and the local economy, not to mention the pride that comes with owning such a beautiful stone that's "Made in the USA."
The average block size of marble coming from the Carrara.
The most popular marble that comes from the Carrara quarry is Statuario marble. With soft grey and gold veins, it is a beautiful choice for elegant kitchen countertops or showers, vanities, and tub surrounds in the bath. While Statuario marble is most popular, it makes up less than ten percent of all the marble quarried in the mountain. Because so little is quarried, this causes a high demand for Statuario marble.

One of the oldest Statuario marble to come from the quarry is Carrara. White in color with a mix of white and grey in the background, this variety has a long history of use throughout the World. Examples of other varieties of marble from the Carrara quarry include:
Statuario veining with subtle hints of White in the background
Statuario White with Grey diagonal veins with a very white background.
Statuario marble Dramatic and stunning swirls of grey and white.
Statuario marble: Darker grey veins, often compared to Carrara marble.
Statuario marble to grey veins typically running diagonally or horizontally
Crystal Stratus Statuario marble with a touch of peach crystalline veins
And the newest color to come from the Statuario Quarry, Florentine parole will be available this summer. A deep purple-grey tone with the same durability as all the Statuario marble
If you've been considering Italian marble for your project, be sure to check out all of the options from Vermont before you make a final choice. Visit one of our factory outlet showroom locations where we can show you all the styles of Danby marble that are available. We can even show you how they compare to Italian varieties since we carry those too. Either way, you choose, your project is sure to bring you joy for decades—even centuries—to come!
What's so great about Statuario marble?
Statue of David
Sculpted out of Statuario marble between 1501-1504, the marble statue by Michelangelo's "David" is a testament to the longevity of Statuario marble.
Q: We're shopping for natural stone for our kitchen remodel. We like marble and were told that we "have to" go with Statuario marble. We're just wondering why. What's so great about Statuario marble? Is it really better than other marble?
A: The most famous marble in the world indeed comes from Italy, specifically the Carrara region. This is where artists such as Michelangelo and Donatello used Statuario marble to create some of the world's most treasured works of art that have withstood the test of time. Statuario marble is in high demand. It's beautiful, durable, and brings with it a reputation for luxury. For this reason, many prefer authentic Italian marble.

Statuario marble is considered to be superior by many due to its purity, durability, and beautiful white color. The fact that many buildings, sculptures, and other works of art made centuries ago out of Statuario marble still exist today is considered a testament to its longevity.
Part of the reason for the purity and durability of Statuario marble is the way it was formed. Statuario Marble is basically crystallized limestone. When limestone a sedimentary rock is met with high temperature and great pressure, large crystals form and bind together to create marble a metamorphic rock. The intense heat destroys most of the impurities once found in the stone. Left behind are large sections of white marble with varied colored veins running through it. The color and boldness of the veins vary with the amount and type of minerals that are present in the limestone. This naturally varies based on the location of the marble, making every marble slab completely unique.

Another reason that Statuario marble is thought to be superior comes simply from the rich stone working heritage of Italy. They were the first to streamline and perfect quarrying methods still used today. We have set very high standards for quality control and do everything with precision. In fact, We are still thought of as some of the most skilled cutters and carvers in the stone world today.
Let's look at Statuario marble, for example. Since it comes from only one quarry in the world located in Tuscany, it's in very high demand. This makes the price of Statuario marble higher than other marble types on the market. But be aware that since this marble is rare, it is also often duplicated, without the end-users knowledge.
Sometimes slabs will be cut and tagged as "Statuario" when they may have been quarried in countries like China or Vietnam, then shipped to Italy for cutting and exported to the world for distribution. The term "Carrara marble" should literally mean that the marble was quarried from Italy's Carrara region, not just that it was cut there. So, when you're shopping, be sure you ask a lot of questions to confirm that you're actually getting what you're paying for.
Here at Bhandari Marble World, we have a very large selection of Italian marble in stock. Our experienced team of stone professionals can show you the differences between authentic Italian marble and other choices. And you can rely on us to always be forthcoming and specific about where your marble was quarried.

That being said, there are some other very beautiful marble choices from other areas. For example, did you know that the marble used to build the Lincoln Memorial in Washington, D.C. was made from gorgeous white marble quarried in Colorado (Calacatta Lincoln)? So, while the Italian variety is definitely beautiful, strong, and luxurious, it's not the "only" option. Come visit us at one of our two New England showroom locations and see for yourself which marble you think is perfect for your project
Statuario marble contains the same white and grey hues found in Carrara, with grey veining similar to that which you'll find in Calacatta slabs. This marble is a very bright white in color, and it is relatively rare. This makes it one of the pricier and more sought-after marbles available on the market. While Statuario is revered in Italy for being the perfect marble for carving statues, it is also an ideal material for residential and commercial projects. Given its rarity, it is not surprising that Statuario marble is often used as a focal point in any room in which it is featured.
Statuario Extra-Bianco Statuario
Like its Calacatta counterpart, this beautiful white marble variety works well in a large tile format, as well as in the form of countertop slabs or book-matched backsplashes or wall panels. Statuario marble is an ideal stone for indoor applications. Like its Calacatta counterpart, this beautiful white marble variety works well in a large tile format, as well as in the form of kitchen and bathroom countertop slabs or book-matched backsplashes or wall panels. Due to its more porous nature, however, Statuario marble should not be used for exterior applications.
Whether you're looking for Statuario marble for a residential or commercial application, for flooring, countertops, or some other purpose, we're able to work with our extensive network of partners and suppliers to find the best product based on your desired look and quality.

Why Statuario Marble Is the Finest Marble in The World. While marble is quarried in many countries around the world including Greece, the USA, India, Spain, Romania, Sweden, and even Germany, there is one country which is generally considered the home of the most high-grade and luxurious marble available – Statuario marble Italy.
Derived from a Greek word that means "to sparkle, flash, and gleam," marble is undoubtedly one of the most luxurious materials in the world. Statuario is the most precious marble varieties found in Italy. It has distinctive veining that can range from gold to grey.
Statuario marble is a most exclusive Italian marble with distinct grey and gold veining throughout and a striking, bold pattern. This marble is considered to be the best white marble. Statuario marble contains heavy, bold grey veining mixed with thinner patterns.
Texture, strength, and durability are the three big factors that make Indian marble the first choice of all. Indian marble suppliers offer a wide variety of quality (level 1-2-3) in all marble slabs, tiles, and countertops for all sorts of residential and commercial purposes. Some buyers prefer to check features of marble being well-polished, crack-resistant, heat resistant, glossy, and shiny look. Taj Mahal in Agra is the biggest example of marble perfection and beauty. The monument is still standing high and lively even after more than 500 years. With the content, readers would know more about why Indian marble has an edge over any other stone, what color impurities give to marble, and what colors are available in India for global buyers.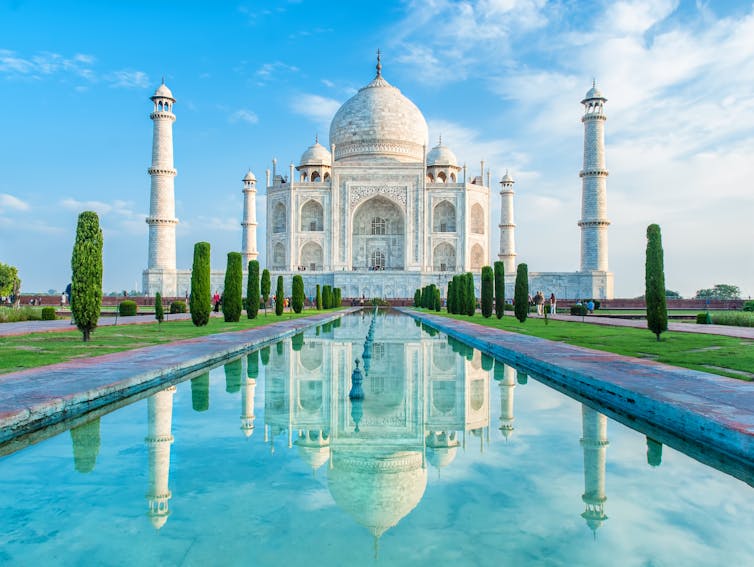 Redefining lifestyle with candid features of Statuario marble:
When you look at the grandiosity of Indian architecture that reflects extravagant opulence in history as well as contemporary times, you find marble as the main construction and décor material that perfectly redefines lifestyle. Indian marble flooring at royal palaces and historical buildings need no introduction. For many decades, attractive Indian marble floorings have been stealing the hearts of the beholders with added beauty and glory. The following are some features showing why Indian marble is still a winner in the race of the best natural stone products. These include:
• Marble ages beautifully with time-to-time care and maintenance.
• Strong and durable marble is great for flooring options.
• Awesome finishes with or without veins and variations of mineral impurities.
• A better option over other materials in terms of durability, texture, & luxury
• Little to no impurities for having elegance and chastity to all living spaces
Marble impurities giving birth to a unique marble color.
The procedure of metamorphism of carbonate minerals helps in the formation of marble. Actually, metamorphism is the variation of geologic texture in pre-existing rocks. There are lots of factors that control the degree of metamorphism. It is heat, pressure, time, and impurities that control metamorphism and coloration in marble rocks. The following are some of the unique marble colors that occurred due to various impurities in marble.
• Iron oxide deposits – Yellow and brown color
• Iron and feldspar deposits – Pink and red color
• Serpentine deposits – Green hue
• Porphyry deposits – Violet color
• Varied mineral deposits – Gold, pink, and blue color
In India, BHANDARI MARBLE WORLD offers a big variety of marble products in various rare and popular colors. If you are planning to get Statuario, white, green, brown, pink, and golden hues with veins, patterns, and lines on the surface, Indian marble can give you a reason to fulfill your needs effectively.

Statuario marble: A true transmitter of sensation
The Statuario color is simply the absence of color and it beautifully absorbs all brightness in the color spectrum. This color represents strength, elegance, seriousness, power, and authority. This hue affects the mind and body by creating a modest feeling, boosting confidence, and increasing the sense of potential. In clear words, marble is a true transmitter of sensation that does not allow those who see it to remain unmoved. The Statuario hue revives the existence of all structures around. When a natural stone product covers the mantle of Statuario, it takes beauty to the next level. It is a Statuario marble that delivers a unique experience to all who love to make the most out of their décor and construction projects. Let's move ahead and check out what are some of the applications of the Statuario marble stone products and what Indian marble suppliers have for global buyers.
Applications of Statuario marble for indoor and outdoor decoration:
When beauty alights on a stone in the form of Statuario marble tiles, slabs, or any other form, it takes away your senses and renders a new meaning to outdoor and indoor decoration in a never before way. Marble Statuario is a popular metamorphic rock stone product that is granular, hard, medium-grained, and gritty to touch. There are lots of applications of this stone product for decorating domestic and commercial interiors and exteriors. Based on particular applications, certified Statuario marble suppliers from India offers a wide variety of stone products for the following options. These include:
Indoor decoration:
• Flooring
• Walls
• Tables
• Countertops
Outdoor decoration:
• Pools
• Patio
• Garden
• facades
Indian Statuario marble assortment for worldwide buyers:
India is a hub of Statuario marble products that owns the ability to affect all visual senses. When it comes to availing marble Statuario varieties, BHANDARI MARBLE GROUP- Exporters and manufacturers are always ready to cater to all changing needs of marble enthusiasts and B2B buyers worldwide in an amicable manner.
STATUARIO MARBLE VARIETY THAT INDIA IS KNOWN FOR
Indian suppliers generally offer rough blocks, customized tiles, countertops, and vanity tops. Also, popular sizes of gang saw slabs 260 x 160 cm up in 2 & 3 cm and cutter slabs 180 x 60 cm up in 2 & 3 cm can be availed in big quantities. Check out the particulars of the top three Statuario marble options from India: Mercury Statuario, carbon Statuario, and Statuario marine marble stone product.
DESIGNERS AND ARCHITECTS ARE WELCOME
We personally invite designers and architects to find the exclusive quality of stone for all types of projects.
For more information, follow our Facebook and Instagram.
ADD BY EXPERT AND EXPORT TEAM OF BHANDARI MARBLE GROUP KISHANGARH, RAJASTHAN CONTACT 9829040013
Social Share