WHITE MARBLE
White Marble represents purity and peace. Many architects use white marble, either for cladding or flooring, in order to bring spaciousness and luminosity to a room. Another of the qualities of white is that it is timeless and therefore, always in fashion.
The shades of White Marble are innumerable. We can find whites with streaks, very clean whites or more greyish. It is nature that provides its exclusive touch to each one of them.
When it comes to matching, that is going to be easy. It works well with neutral tones (creams, blacks or greys), while combining it with other more eye-catching colors, such as red or green, makes it possible to soften ambiences.
OTHER COLORED MARBLE
Nature offers us an extensive range of marble colors and it is, therefore, possible to create infinite unique spaces. Each type of marble has an implicit sensation, for example, Crema Marfil transmits warmth, black elegance, red strength and brown versatility.
BEIGE COLOR MARBLE WITH WHITE MARBLE
There is something very luxurious about the grand combination of misty veined white marble and rich beige colored marble. Beige Marble is quarried in Turkey. The most common Use of this marble is for flooring. Bianco Beige Marble has very smooth finish and texture on its elegant color. The teaming of natural materials brings life to a modern apartment interior and can be incorporated in a myriad of ways. Floors, bathroom tiles and kitchen backsplashes have long been clad in marvelous marble finishes.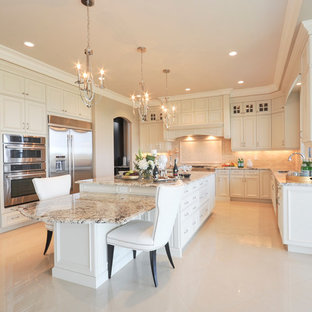 BLACK COLORED MARBLE WITH WHITE MARBLE
While marble is a common choice for the bathroom, these designs showcase marble flooring in different rooms around the house, including foyers and kitchens. From black-and-white checkerboard layouts to neutral patterns, see how white marble brings a sophisticated look in many spaces with black marble. Black Marble have many multipurpose uses. It can be used for interior and exterior flooring, wall cladding and Stair-casing. These marbles are also highly recommended for kitchen counter top, bathroom vanity and sink top and any other kind of worktop applications
RED MARBLE WITH WHITE MARBLE
Red marble, passion for red. Ambiences with a strong personality that invite you to experiment with your senses, your feelings and your life. Marble covers a very broad color palette that goes from the purest whites to the most intense blacks. Beyond its practicality, Marble stairs radiate sophistication no matter where they are located. We find them in luxury residences, hotels, shopping centers, museums, and theaters. Marble stairs cannot be missing in any design that has good taste as a priority, it brings an unmatched aesthetic force.
BROWN MARBLE AND WHITE MARBLE
With their magnificently earthy hues, brown marble is the most delicate and versatile combination with white Marble. If you prefer aesthetic force, Armani Brown is the best choice. But if you are looking for a calm and delicate look, Light Emperador is your perfect ally. The timelessness of earthy colors is revealed in the exquisite selection of brown marble by BHANDARI MARBLE GROUP.
GREY MARBLE WITH WHITE MARBLE
The grey marble incorporates neutral tones that cover different ranges of colors. Its chromatic scale ranges from pearl tones through silver and grey ochre to graffiti such as mole. It is mainly used in places that aspire to transmit calm and serenity. This combination of Grey pair it with white for a transitional appearance
GREEN MARBLE WITH WHITE MARBLE
Green marble can be used or both commercial and Home applications. We offer the finest Green marbles with a perfect finish procured from our own quarries in the different marble sector. These Green Marble are immensely popular amongst designers and architects in the construction industry. Green marble has a decorative look and its wide variation in veining and coloring is considered its best trait. The Basins of white Marble looks striking against the green marble Wall Elevation.
A good selection of the stone for home, office, or villas assures a relevant qualitative added value.
Marble is a highly appreciated timeless material that adds beauty and style to any interior design.
BHANDARI MARBLE GROUP is the specialist in White Marble, Green Marble, Black Marble, Beige Marble, etc. for projects like villas or luxury suites. 
ADD BY EXPERT AND EXPORT TEAM OF BHANDARI MARBLE GROUP, KISHANGARH, RAJASTHAN CONTACT 9829040013
Social Share