YOUR FLOORING AND COUNTERTOP SURFACING ART
Honed Calacatta Michelangelo
When it comes to elevating the luxuriousness of your home, Italian white marble has no comparison of all-natural stones, white marble has been favored for centuries by Greek and Roman sculptors as well as modern-day designers, becoming a cultural symbol of refined taste. For homeowners, its dramatic veining, characteristic swirls, and completely unique patterns bring art and jaw-dropping beauty into any living space.
Elegant and timeless, every piece of marble is one-of-a-kind and impossible to replicate. It also lasts throughout the ages think Michelangelo's David or the Taj Mahal.
But, since marble requires a bit of extra care, it's sometimes debated whether it should go into a kitchen or not. The short answer is — absolutely!
Don't let anyone tell you that marble should not be used on a kitchen countertop. Just ask renowned chefs and restaurateurs why Italian marble is their preferred choice: strong and heat resistant, marble remains cool, a necessity while prepping delicate pastry dough.
So why all the worry about using Italian marble in the kitchen?
While incredibly durable, Italian marble is also porous and prone to etching and scratching. Marble will change over time; however, this is actually part of its appeal. With use and age, marble develops a priceless "patina" that enhances the value and beauty of the stone. Italian Marble is truly more a piece of art than just another building material. When added to your home, it transforms organically, becoming a part of your family history.
Some self-awareness is certainly valuable when deciding whether or not to choose Italian marble countertops.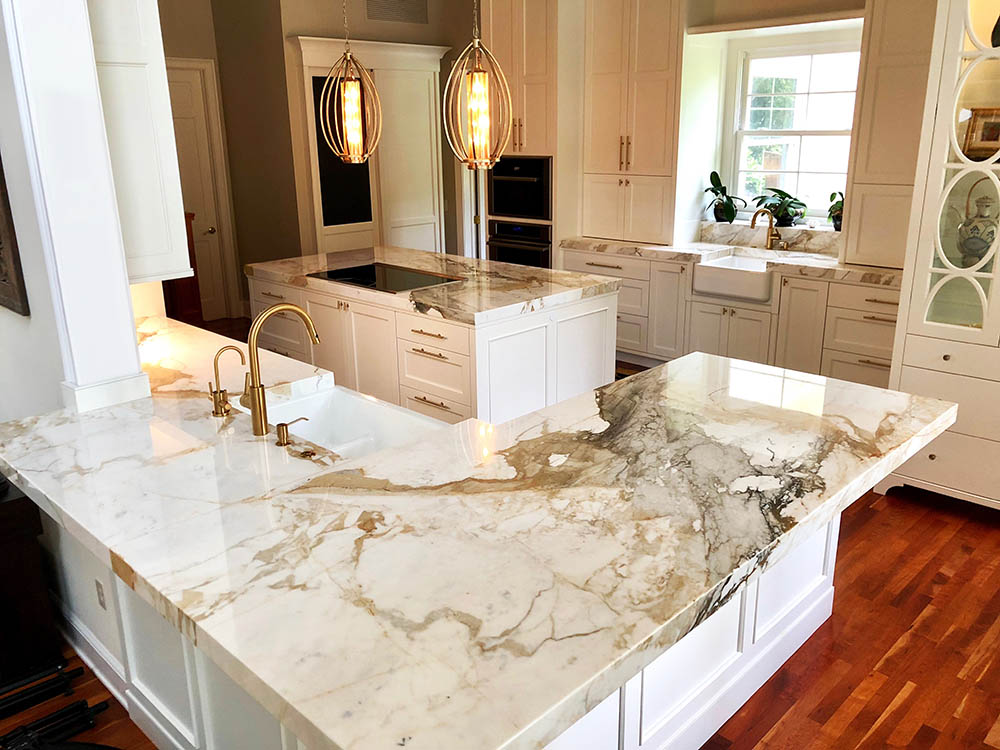 If you're not willing to take some extra steps to maintain your Italian marble countertops or you feel nervous about your surface changing, perhaps opt for a quartzite, granite, or engineered quartz. But if you love Italian marble and just can't find anything that satisfactorily replaces its unique look (highly likely and understandable), never let anyone discourage you! Italian Marble is the most coveted natural stone in the world, and even though you'll be joining the ranks of humanity's great artists and designers, nobody will ever have a piece exactly like yours.
QUALITY MATTERS

The key factor in long lasting enjoyment of your Italian marble is selecting the best quality. Here at Bhandari Marble Group in Kishangarh, we have a rigorous sourcing process, and our Italian marble slabs are both mined and finished in Italy where centuries of artisans have perfected their craft. Over decades, we have developed relationships with Italian quarry owners that ensure we bring the best natural stone to our clients.
To properly care for your Italian marble countertops, we always recommend using a high-quality professional sealer (available at Bhandari Marble Group). If you are especially concerned about etching and scratching, honed marble is the best way to go. Not only will honed surfaces conceal minor marks better than polished surfaces, but honed marble can also be refinished and restored periodically (a unique feature of marble). Using trivets, cutting boards, will help prevent staining, as will promptly cleaning spills with warm soap and water. It's best to stay away from the use of harsh chemical cleaners. Bhandari Marble Group carries gentle cleaners made specifically for marble care.
The most popular types of white marble today — Carrara, Calacatta, and Statuario — are all quarried from the same exclusive region in Italy, where we travel to multiple times a year. Carrara usually has a soft, grayer background with more linear veining, and is the least expensive of the three. Calacatta are rare and have much darker veining patterns on a pure white background, giving it a striking, bold look. Statuario marble has heavy grey and gold veining with delicate patterns on an Italian background. Bhandari Marble Group carries the most extensive selection of premium white Italian marble slabs in India here in our Kishangarh showroom.
Our Italian white marble slabs are available in various thicknesses (2cm, 3cm, 5cm) and finishes (polished, honed). White marble tiles for flooring, showers and backsplashes are available in multiple sizes, shapes, and patterns including hexagons, subway style, and much more. Here are some of the most popular Italian white marble slabs that we stock:

ADD BY EXPERT AND EXPORT TEAM OF BHANDARI MARBLE GROUP, KISHANGARH, RAJASTHAN CONTACT 9829040013
Social Share