ARCHITECTS+INTERIOR DESIGNERS+BUILDERS+HOTALIERS ACROSS-THE-WORLD LOVE THE INFINITY LUXURIOUS IMPORTED GRANITE BY BHANDARI MARBLE GROUP-FIND OUT WHY ARCHITECTS, INTERIOR DESIGNERS, AND BUILDERS LOVE THE INFINITY LUXURIOUS IMPORTED GRANITE BY THE BHANDARI MARBLE GROUP Best one Impex has employed the talented minds in the country who are dedicated as well as experienced. These professionals understand clients' requirements well and thus manufacture products accordingly. Owing to these adroit professionals, our company is counted amongst the leading Imported Importer & Granite Exporters in India.
COSMIC BLACK GRANITE Cosmic Black comes in a wide variety of patterns, so it is important to see the actual slab you are getting before committing to it. It works very well as kitchen countertops and bathroom vanity tops, but it also looks fantastic as floor tiles and fireplace surrounds. Cosmic Black is subtly dramatic and plays well with a wide range of kitchen styles. It looks well with readily available types of appliances, fixtures, and cabinets, so you need only consult your own personal cosmic taste when making your selections when renovating your kitchen.
GOLDER SIVER GRANITE The description of Golden Silver granite might not sound dramatic, but when you see the slab, you can see why many people consider it a bold choice. The vibrancy of the otherwise neutral colors elevates it to the subtly elegant, and the right lighting picks up silver and gold tones that the drama. It is very versatile, working well with vintage-style and ultra-modern kitchens with equal aplomb.
GOLDEN ARCTIC GRANITE Despite being white granite, this type of stone has a richness to it that makes it an excellent choice for the kitchen, whether indoors or outdoors. It spreads warmth in any type of kitchen, but it is particularly suitable for contemporary and traditional kitchens. You can match it with wood equally as well as with metal. This particular granite is available in a variety of finishes, including sandblasted, sanded, rock-faced, honed, and polished.
BALTIC BLUE GRANITE Baltic Blue looks best with a honed finish, as it accentuates the vibrancy of the stone colors. Use it with any style of kitchen, and the combination of blue and brown makes it an excellent way to transition colors in the kitchen as well as other rooms in a house with an open layout. It will look just as fantastic indoors or outdoors, so have no fear.
Giallo Matisse Granite Of course, the granite is predominantly yellow, which might restrict your color options. However, if you are looking for a vibrant hue for your kitchen or bathroom, yellow is a good way to go anyway. Giallo Matisse granite also goes by the names Golden Matisse and Amarillo Matisse. It comes from Brazil, and it is yellow granite with large gray veins and swirls.
Imported Granite Collection Products:
Angola Brown Granite
Atlantic Black Granite
Black Pearl
Blue Pearl
Blue Pearl Granite
Bora Granite
Botanica Green Granite
Cosmic Flash Granite
Fantasy Black Granite
Delicates Granite
Golden Persia Granite
Matrix Granite
Merlyn Blue Granite
Madagascar Blue Granite
Nairobi Black Granite
Red Pearl Granite
Titanio Granite
Volga Blue Granite
Wasabi Granite
White Pearl Granite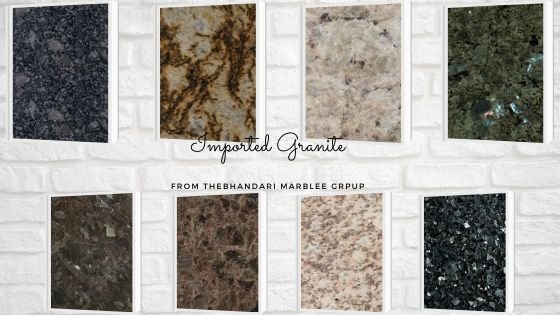 INDIA'S TOP AND WORLD'S BEST MARBLE, GRANITE AND STONE COMPANY
ADD BY EXPERT AND EXPORT TEAM OF BHANDARI MARBLE GROUP. CONTACT US ON; 9672941111.
Social Share