Things you Should Know About Marble Flooring?
Italian marble is known for its fine veins and a lustrous sheen. The most well-known varieties are the white or blue-grey marble from Carrara, the pearly shades of Botticino, and the creamy white Pavonazzetto or Red Verona.
Here we BHANDARI MARBLE GROUP bring to you some of the most important factors that would enlighten and help you make an informed decision of choosing marble as a flooring option.
As a metamorphic rock, marble tends to be stronger than other materials, thereby making it perfect for flooring. The natural composition of marble makes it highly durable and robust.
Whether used in living rooms, kitchen countertops, or bathrooms, Italian marble has a timeless and elegant appeal. It has always been among the most preferred natural stones for home décor, and the most commonly used varieties are Italian and Statuario marble. These natural stones are available in a wide range of colors and vein patterns, and to a layperson, the sheer variety of choices can be quite overwhelming.
When it comes to adding that touch of elegance to home interiors, there's nothing quite like Italian marble. This regal material can instantly amp up the look of any room. But, have you ever wondered which is the best Italian marble for flooring! Here, we BHANDARI MARBLE GROUP will give you a comprehensive list of things to keep in mind while choosing marble for your home by comparing these popular options.
Italian marble, like the Indian counterpart, comes in a variety of colors and textures, though there are a few varieties which are instantly recognizable such as:
• The much-valued Statuario marble which is characterized by its white color shot with grey or gold veins
• Golden hued Botticino marble which seems to be lit from within
• Light grey Carrara marble which features dispersed, fine, feathery veining
• Nero (black) Marquina and so on.
Advantages of Italian Marble
Italian Marble has a beautiful look that may be just what you need to finish your future home improvement project. Now, what are the other benefits of choosing Italian marble?

Cleanliness: Carpets carry allergens and show stains easily. Italian Marble does not carry allergens and will not contribute to the respiratory problems of people in the home. It is resistant to mold and fungus. Cleaning is as simple as running a dust mop on the surface of the floor or using a floor cleaner.

Durability: Italian Marble is ideal for areas with a lot of footfall because it can withstand constant use. Explaining the durability of Italian marble is as simple as referencing strong and intact marble floors that have been found in ancient ruins. These floors can quite literally resist the test of time.

Enhanced Home Value: Italian Marble projects an elegant, high-class look that appeals to homebuyers. It can boost a home's resale value.

Versatility: Italian Marble is used in kitchens, bathrooms, living rooms, bedrooms, and elsewhere throughout the home. It offers limitless design options for creating stylish rooms. There are many styles to choose from Italian Bianco Carrara.

A Great choice: CARRARA MARBLE
Carrara marble provides an elegant, rich look that's hard to beat. Carrara is a popular choice for floor tiles and on countertops, has an aesthetically pleasing white or grayish-blue tone. The tile is named after the Italian city that produces it. It was used extensively in European sculptures and structures before it became popular across the world.
These days homeowners appreciate Carrara and other types of marble tiles too for their color and durability. This variety of Italian marble, specifically, is favored because of its surface veining, which gives it an artistic flair and has the extra benefit of camouflaging any wear and tear that the tiles might sustain.
The polished look of Italian marble gives a refined quality to any room, blending well with classic or modern decor. As an extra benefit, marble flooring can help keep a home cooler in the warmer months of the year. BHANDARI MARBLE GROUP will provide you best material as we are the exclusive supplier and exporter of Italian Marble in India.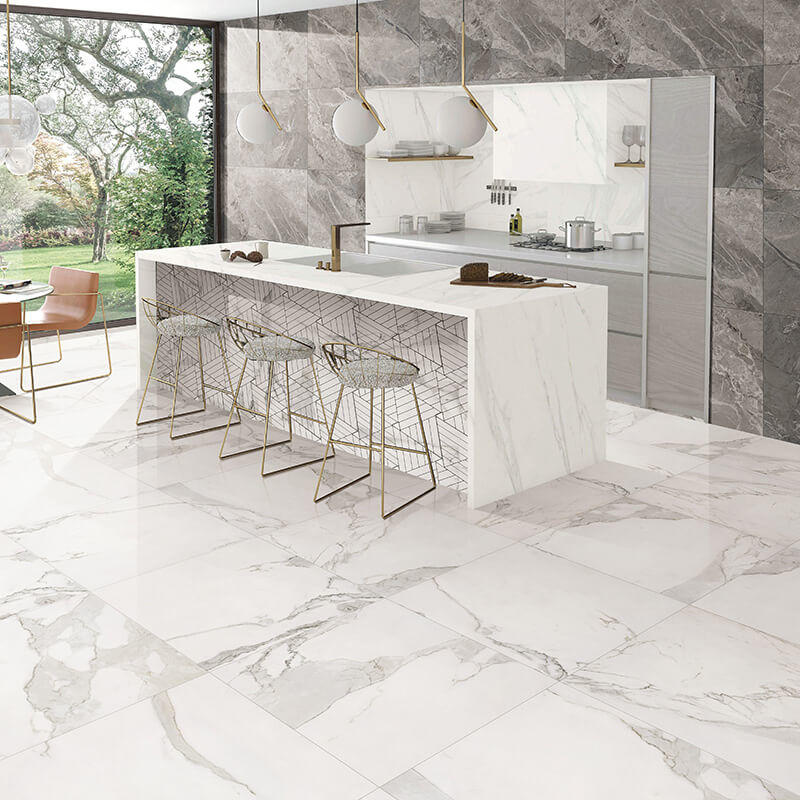 CALACATTA MARBLE
Though all marble is formed in the same way by nature, marble may be unique and more highly sought after than others. Calacatta Marble is one such marble – a gorgeous, high-end natural stone desirable for its distinctive look and precious rarity for a range of applications.
Distinctive Look: Calacatta Marble is distinctive with its thick, bold veining. Rather than the plentiful soft veins of a marble-like Carrara, Calacatta's hallmark is fewer but more dramatic and unstructured veins. Overall, the color has a global appeal with designers and architects due to its soothing white background, veining, and color tone. (The whiter the background, the more expensive and desirable these marbles get.) The economy of Calacatta Marble's veining is also suited to book-matched. We offer 6 color variations of Calacatta Marble including Calacatta Classic, Calacatta Gold, Calacatta Gold Premium, Calacatta Lasa, Calacatta Splendor, and Calacatta Vagli. The veins vary in color from golden to grey. Coupled with the white background, the colors of Calacatta are neutral and can easily be paired with dark or light woods and other materials to highlight or to downplay architectural elements. Bhandari Marble Group is the well known for top quality marble suppliers in marble market.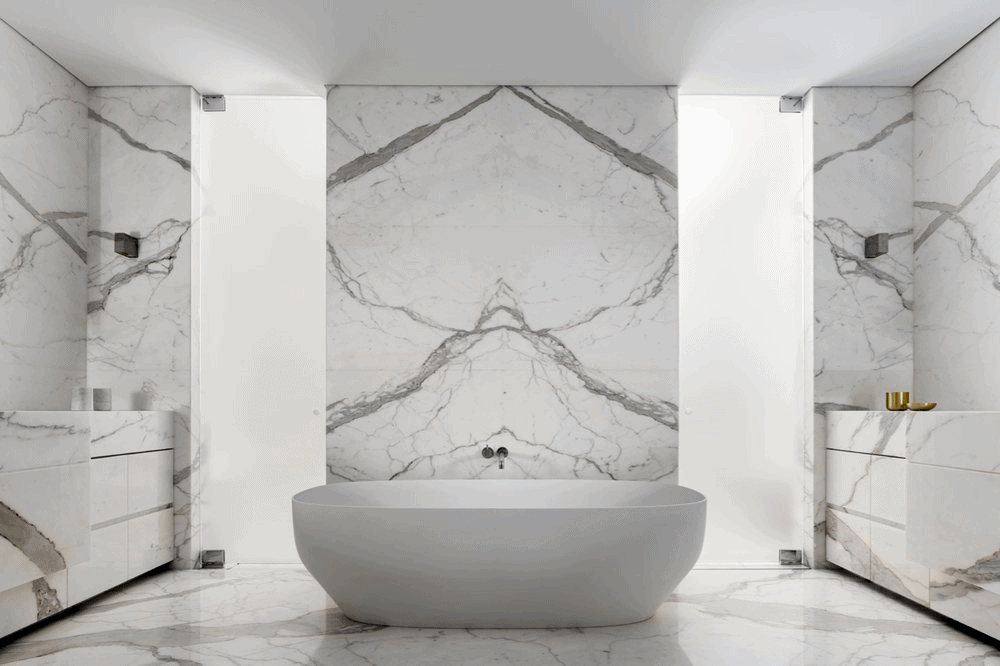 BOTTICINO MARBLE
Botticino Marble is the premium quality imported Italian Marble. It has a beautiful color and pattern with amazing shine. Exclusive Botticino Marble is recommended for flooring. When place in the right direction, they make beautiful patterns. Our team will provide you everything regarding marble or you can visit our outlet in Kishangarh, Rajasthan, India

Dyna Marble The choice that can never go wrong. You can apply it in your bedroom, it will always give a super luxurious look. It is the premium Quality of Italian marble widely demanding in India and in its provenance.
Crema Marfil Marble from Spain is a classic cream marble with tan undertones. This collection is ideally suited for indoor bathroom and kitchen applications, such as backsplashes, flooring, countertops, and wall coverings.
Golden Portoro Waterfall Marble is basically a Golden Portoro Marble with waterfall like texture on it. These products are widely appreciated for its smoothness and fine texture. These marbles are available in various ranges, thickness and other specifications as per the precise demands and requirements of the customer.
Travertine Marble is best know for its external use. It is also referred as Travertine External Marble. Travertine is commonly used for the Garden Path and Paving Patio.
Vietnam White Marble premium  Vietnam White Marble is also known as world's whitest stone of world. It is also calcite stone like Makrana Marble quality flawless White Marble. This is widely used for Residential flooring in offices, industries, Schools, Temples, statues and wall cladding. It has perfect white colour, lustrous shine are its beautiful feature. Our Vietnam White Marble qualities match the international standards.
BELGIUM BLACK MARBLE Elegance: this is the most correct and exhaustive definition to describe this marvelous marble that comes from Belgium and that offers an intense black background on which a slight bright white dotting stands out. This detail gives the material an original and unconventional appearance, making it perfect in any declination dedicated both to interior design – such as stairs, floors and countertops – and for the preparation of outdoors. As for the finishes, the polishing is the most recommended treatment since it is particularly suitable to emphasize the aesthetic qualities of this most exclusive natural stone of its kind.
One of the reasons that marble has so often been used in great works of sculpture is that it has a slightly translucent quality. When used for flooring, this quality allows illumination to penetrate the surface of some lighter-colored marble materials, giving the material a slight glow. One of the major reasons why marble is preferred over other materials for flooring is its realistic and natural elegance. Marble is exclusively available in a range of unique colours, patterns, texture and finish. What makes marble incredibly special is the unmatched grandeur. Imported marble comprises an infinite range of variants that are loud on lustre and aesthetics. Looking for any kind of quality marble, you are at the best place. 
ADD BY EXPERT AND EXPORT TEAM OF BHANDARI MARBLE GROUP If you have any query about anything feel free to contact us 9829040013
Social Share